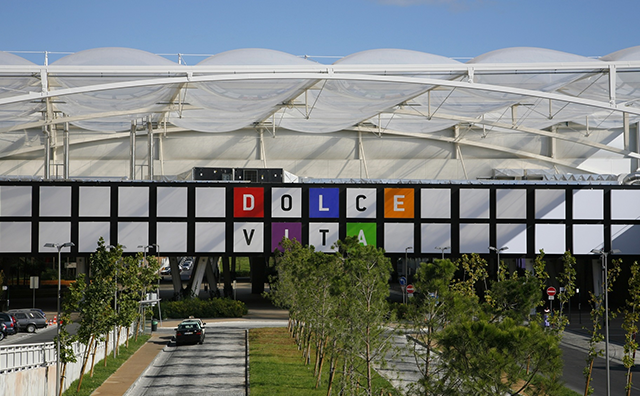 In May 2009, UBBO (Dolce Vita Tejo) opened its doors. It is host to more than 280 shops distributed over two floors and 104,503 square meters. Dolce Vita Tejo also boasts the largest covered plaza in Europe, a stunning open space with a 130 square meter screen hovering over a hanging garden. This is the home of Kidzania, a fun and educational theme park where "kids can play at being adults" and experience over sixty different professions, and Lego Fun Factory, a leisure unit where the creative richness of the Lego universe is showcased.
Among its many leading brands and stores, a Jumbo hypermarket, El Corte Ingles Oportunidades with discounted products from the department store, a Holmes Place gym, and an eleven-theatre UCI Cinema unit are featured in the centre. All of this is offered with the additional comfort of a covered car park with 9000 free parking spaces.
Located in the heart of six municipalities (Amadora, Lisboa, Loures, Sintra, Oeiras and Odivelas) and with privileged accesses, Dolce Vita Tejo is recognized as the perfect destination for entertainment, shopping, and leisure.
Opening Times
From Monday to Thursday and Sunday, doors are kept open from 10 AM to 11 PM. On Friday and Saturday, the opening hours are extended to 12 AM. The best of shopping and entertainment is experienced at UBBO (Dolce Vita Tejo).
Location