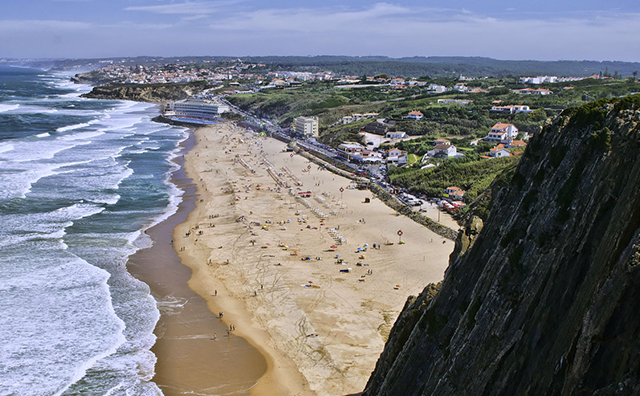 Discover the Splendor of Praia Grande
Just a stone's throw away from Lisbon, the Praia Grande awaits. This beach, nestled in the heart of Sintra, is a beloved spot for locals and tourists alike. Its vast sandy shores and crystal-clear waters make it a paradise for those who love the beach. The beach is also known for its dinosaur footprints, which adds a unique charm to it.
A Beach for History and Nature Enthusiasts
Praia Grande is not just a beach, it's a journey back in time. The dinosaur footprints found here are believed to be from the Jurassic period, making it a fascinating spot for history and nature enthusiasts. The footprints are located on the southern ledge of the beach and are a must-see for any visitor.
Modern Comforts
Despite its historical significance, Praia Grande does not lack in modern comforts. There are several restaurants and cafes nearby, offering a variety of local and international cuisines. The beach is also easily accessible, with ample parking spaces available.
Experience Praia Grande
Experience the splendor of Praia Grande for yourself. Its unique blend of historical significance, natural beauty, and modern comforts make it a must-visit destination. So why wait? Plan your visit to Praia Grande today and discover this splendid beach for yourself.