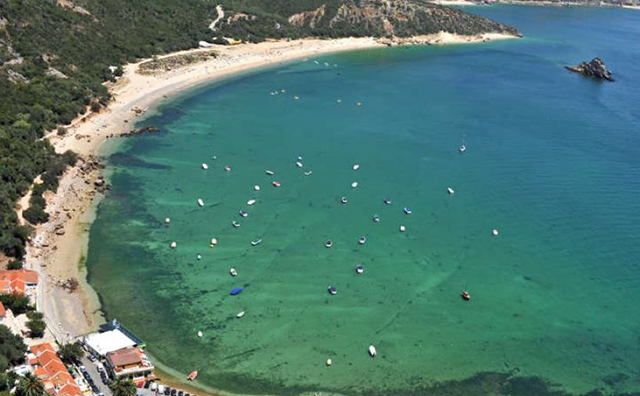 Explore the Serenity of Portinho da Arrábida
Just a short drive from Lisbon, you'll find the serene Portinho da Arrábida. This beach, nestled within the Serra da Arrábida Natural Park, is considered one of the prettiest in all of Portugal. Its fine white sands and clear waters, in various tones of blue, contrast with the deep greens of the hills, creating a beautiful and relaxing environment.
A Beach for Diving and Relaxation
Portinho da Arrábida is a calm bay that's perfect for diving and observing diverse marine life. However, fishing is forbidden as the seabed is included in the Natural Park's protected area. This makes the beach an ideal spot for those who want to enjoy the beauty of nature without disturbing it.
Modern Amenities
Despite its natural surroundings, Portinho da Arrábida offers modern amenities. There are several restaurants at the entrance to the beach, offering a variety of local and international dishes. The beach is also easily accessible, with ample parking spaces available for a small fee.
Experience Portinho da Arrábida
Experience the serenity of Portinho da Arrábida for yourself. Its unique blend of natural beauty, clear waters, and modern amenities make it a must-visit destination. So why wait? Plan your visit to Portinho da Arrábida today and discover this serene beach for yourself.