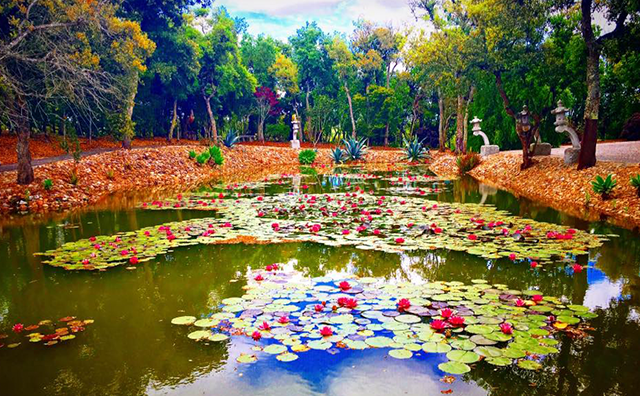 Bacalhoa Buddha Eden: A Tranquil Paradise
Located in the heart of the Obidos region, not far from Lisbon, is the unique and tranquil Bacalhoa Buddha Eden. This serene destination is nestled within the Quinta dos Loridos estate, a place with a rich history linked to wine and sparkling wine production dating back to the XV Century. The estate is home to top quality sparkling wines of the Loridos brand, and its surroundings perfectly complement its purpose, featuring terraced gardens, a lake, a forest, and vineyards. The crown jewel of the estate is the largest oriental garden in Europe, the impressive Buddha Eden.
A Garden of Serenity and History
The Buddha Eden Garden spans approximately 35 hectares and was created by Comendador Jose Berardo in response to the destruction of the Buddhas of Banyan. This garden is a monumental work of art, with an estimated six thousand tons of marble and granite used to create various sculptures. These include Buddhas, pagodas, and terracotta statues, adding a unique charm to the place. There are seven hundred hand-painted terracotta soldiers, each unique, and replicas of those buried over 2,200 years ago. The central lake is home to KOI (Japanese carp) fish, and sculpted dragons rise out of the water, adding to the mystical ambiance of the garden.
Experience the Charm of Buddha Eden
The central staircase is the focal point of the garden, where the golden Buddhas offer a calm welcome. Visitors have described the garden as a peaceful respite filled with modern and African art, religious art, and unique bridges. It's recommended to take the train ride as an intro to the gardens and to explore different parts of it. The garden is also home to a cafe where visitors can enjoy a colorful glass of wine, coffee, and some national fresh baked treats like Pastel de Nata.
Modern Amenities Amidst Natural Beauty
Despite its historical significance and natural surroundings, Bacalhoa Buddha Eden does not lack in modern comforts. There are several restaurants and cafes nearby, offering a variety of local and international dishes. The garden is also easily accessible, with ample parking spaces available for a small fee. Whether you're a history enthusiast, a nature lover, or simply looking for a peaceful getaway, Bacalhoa Buddha Eden is a must-visit destination.