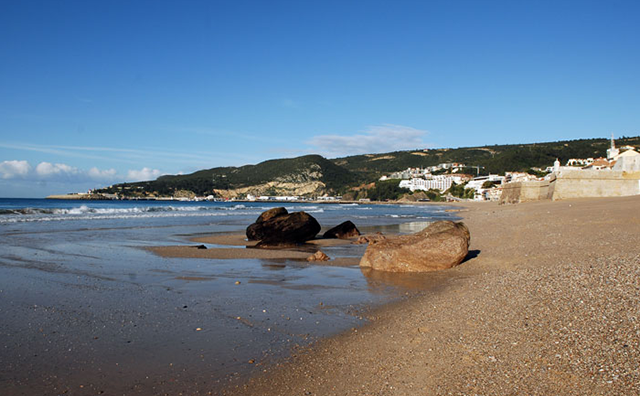 Experience the Beauty of Praia da Califórnia
Praia da Califórnia lies in the municipality of Sesimbra, Portugal. This family-friendly beach offers a sandy terrain. Lifeguards patrol the beach constantly, ensuring a safe environment for families with children. Furthermore, the beach's design includes accommodations for those with disabilities.
Historical Significance
History enthusiasts will find Praia da Califórnia a haven. The 17th-century fortress of Saint James graces the western end of the beach, adding a historical touch to the scenic landscape. Consequently, it's a perfect blend of natural beauty and historical significance.
Amenities and Facilities
Praia da Califórnia offers an abundance of amenities. Visitors will find a variety of bars and restaurants, toilets, showers, and parking spots. For those who want to relax and soak up the sun, loungers are available. Additionally, the beach offers Wi-Fi, ensuring that visitors can stay connected. These amenities make Praia da Califórnia an essential stop for anyone visiting Sesimbra.
Beach Characteristics
Praia da Califórnia sits within a bay in the central/eastern area of the village of Sesimbra. It boasts an extensive sandy area of about 1 km. The calm waters and the thin strip of sand during high tide make it unique. A set of rocky formations bounds the beach to the east.
Local Climate and Weather
The weather at Praia da Califórnia is typically mild, making it a perfect destination for beachgoers throughout the year. The average air temperature hovers around 20 degrees Celsius. The wind speed varies, but it's generally breezy, making it a great spot for wind-related water sports.
Local Cuisine
When visiting Praia da Califórnia, don't miss out on the local cuisine. The beachside bars and restaurants serve a variety of dishes, with seafood being a popular choice. Visitors must try the freshly caught fish and other seafood delicacies.