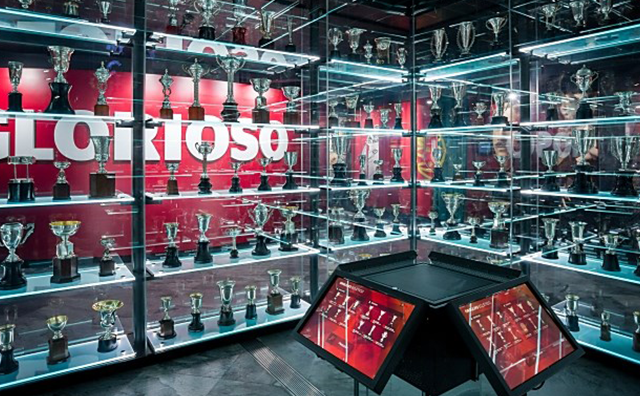 Museu Benfica – Cosme Damião: Celebrating Football History
In Lisbon, Portugal, the Museu Benfica – Cosme Damião stands as a tribute to the rich history of the S.L. Benfica sports club. The museum takes its name from Cosme Damião, a founder of the club in 1904. Although currently under renovation, the museum continues to engage the public with its 'MUDE OUTSIDE THE DOORS' initiative. This program offers cultural and exhibition programming throughout Lisbon and beyond.
Historical Highlights
The museum, located near Benfica's stadium, spans 4,000 square metres. Inside, visitors can explore three floors filled with club memorabilia. A striking glass structure displays about 500 of the club's trophies. The museum's collection, divided into 29 thematic areas, includes around 1,000 pieces. These pieces represent a larger collection of 30,000 items, including trophies, documents, images, audio, and video. All these elements tell the story of Benfica's history, set against the backdrop of 20th-century domestic and international events.
Interactive Exhibits
Visitors to the museum can interact with audiovisual touchscreens and view a hologram of Eusébio, a Benfica legend. The museum also features an area displaying photos of Benfica supporters. An elevator, surrounded by video walls, transports visitors to a geodesic dome at the top of the building. Here, a short film about the club's history plays.
Award-Winning Attraction
In 2014, the Portuguese Association of Museology named the Museu Benfica the Best Portuguese Museum. By 24 July 2018, the museum had welcomed 400,000 visitors, marking it as a popular destination for football enthusiasts and history buffs.